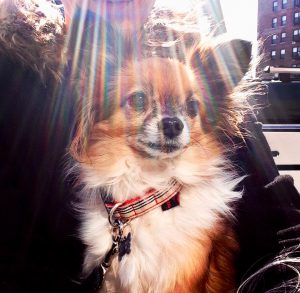 One week ago, my gentleman hero Fantastic Mr. Fox went to sleep after a night of dancing, treats, and movie watching, and did not wake up. His passing was sudden, peaceful.
Almost six years ago I walked into Sean Casey Animal Rescue to buy cat food. I was supposed to be out of town for a conference which for the first time in many years I decided to skip. In a small cage under a stack of boxes, a tiny orange and white dog with important ears sat with his paws crossed. Just brought in. He was a four-and-a-half year old papillon, the French word for butterfly, and had my French grandmother's liquid brown eyes. I knew him immediately.
You don't get to choose when you meet your soulmate. You either upend your life to make room for them or you don't. Yes, I said, and ran around Brooklyn buying the softest things I could find to make a space for him in my life, to make a bed.
I took Fox to snowy mountains, hiking in the woods to gorgeous vistas, to winter and summer beaches. He hated all of it. I secretly admired that his unofficial motto regarding outdoorsy activities and other dogs was, "I would prefer not to." I loved his furry dome, his happy dance. Everything about him seemed engineered to bring joy. He liked promenading down 4th Street in Brooklyn being adored by the members of our wonderful neighborhood, his stuffed bunnies, bacon, his Carl, his Virginia family, his grandmother, saying hi to the ducks in Prospect Park, and (if you can believe it) me, most of all.
As a little writer girl who hated dolls and girly things, it felt like one of my beloved stuffed animals had come to life after I made a wish. He was for me. I never got over that, and I never stopped telling him.
Mr. Fox owned countless sweaters, a pair of reindeer antlers, a Bastille Day beret, one tuxedo, and three bowties. Once he full out Bambi-ed on a frozen ice puddle which was so cute I confess I made him do it again.
It's true I preferred a night with him to any party, have been happiest around animals. Human rules have always baffled me, how it's always been a hard go for the smallest, softest things.
The day after we lost Fox, we found out that we also lost our beautiful friend Adina. She always referred to him as "that dapper gentleman," and I can only hope he left because he wanted to help her through that terrible time.
Mr. Fox, you will never leave my thoughts. I will name everything possible after you. I'll be on the lookout for the important ears that might signify a potential new soulmate. I'll try to stay soft and lovely and adjusted and well-fed, but you know me you know me you know.
If I could return to any time in history and visit anyone, living or dead, I'd take any dullsville afternoon during the six short years you were with us, hearing then seeing you come around the corner to make sure of me. It filled me with an almost unbearable amount of joy. Cheek to furry cheek. How lucky I was.
I'd say, Don't you worry about a thing, buddy. I'm here.